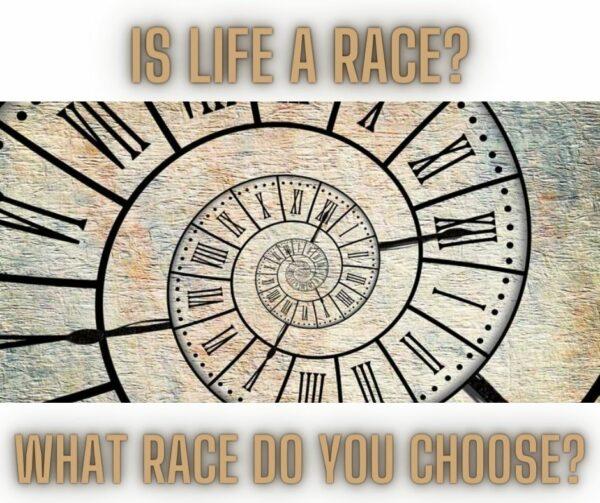 What Race Do You Choose?
The Paradoxical Nature of Life & Why You Shouldn't Follow the Race Nobody Wants to Win
The paradoxical nature of life is that we want things but don't want to do the work for them. We want to be successful but don't want to work hard. We want to be happy, but we don't know how.
Some of us even don't know what happiness means to them.
We often think of happiness as a destination, an end-point. But it is not. It is more like a process that can be attained by following the right choices.
Is Life a Race?
The question of whether life is a race or not has been debated for centuries. And you can find YOUR answer to this question in the way you live your life.
Some people believe that life is a race, and they continue to strive to reach the finish line before their time runs out. They work hard, never take any breaks, and don't stop until they have reached their goals.
Then some believe that life is not a race at all; instead, it's more of an adventure where you explore as much as you can while you're alive. They take vacations when they need or want and sometimes go on long walks just because it feels good to get some fresh air.
Neither side is wrong, but it's important to remember that this ONE CHOICE – THE RACE YOU CHOOSE controls all your life.
The Biggest Life Paradox!
Well, we hear from when we are born that "Life is a Race," even if we don't know exactly in WHAT "race" we are running.
But what does "A RACE" mean?

A race means HIGH SPEED in LESS TIME till THE END of the race.
Ok. Now let's think of it this way.
We know what high speed and less time mean, but what means THE END?
If LIFE IS a RACE, then THE END IS DEATH!!!
Are you sure you want to win THIS KIND of race?
Where to be THE FASTER?
In LESS TIME?
Or THE FIRST?
If so, then you race against YOUR OWN TIME IN LIFE!
Maybe "The Race of Life" is the kind of race you DON'T want to win!
It is NOT a win, and as long as you're IN it, you'll lose it!
The Importance of Choosing the Right Race and Appreciating Life
Now let's think again, my friend.
What if we suppose that life is a race WITH and FOR OURSELF?
Meaning, how FAST do we GROW in LESS TIME?
In this case, "Life Is A Race" makes FULL SENSE!

And you can choose to grow with HIGH SPEED in LESS TIME to live FREE and HAPPY for the rest of your life – THE END!
So What Race Do You Choose?
For me, life excluded the idea of racing at my birth and made me appreciate my good fortune instead. So I HAD TO CHOOSE the race with myself to create the free and happy life I wanted.
However, it is important to take a step back and remember that there is always something more important in life.
And yes, you should keep striving for success but not at the expense of your happiness.
Instead, maybe you want to DROP YOUR SPEED to SEE LIFE in the time you spend in it.
AND LET YOUR LIFE SEE YOU TOO!
The Power of Slowing Down and Feeling Alive Again
The conclusion is that you should not be afraid of slowing down and feeling alive again. You should not feel guilty for taking time for yourself because it is necessary to be able to function at home and in the workplace.
And if you want to learn HOW TO CHOOSE YOUR RACE for your next steps in life, reach out to me.
I would love to guide you to find out how to grow with HIGH SPEED in LESS TIME.
And you have MY PROMISE that you will feel how, for real, you can live FREE and HAPPY for the rest of your life – THE END!

I CHOOSE!
YOU CHOOSE!